School News
Alumni Highlight - Margriet Greidanus (Class of 1997)
Posted on

June 5th, 2017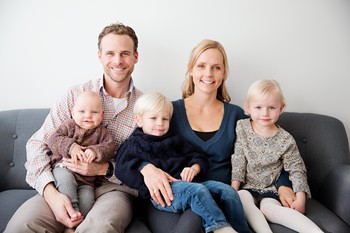 In celebration of the 20 years since this class graduated, it's time to highlight one of it's members! Margriet Greidanus was the last member of her family to graduate from CCS. Her three older brothers and one older sister left the CCS nest in 1986, 1988, 1990 and 1993. A younger brother graduated from high school in High River. In the 20 years since she graduated from CCS, Margriet hasn't been idle! The list of post-secondary education itself is long and impressive! Margriet got her BSc Chemistry at The Kings University, then went on to get Doctorate of Medicine at the University of Calgary. She completed a Family Practice Residency (CCFP) and an Emergency Medicine Residency (CCFP-EM) at Queen's University and finally, her Diploma in Clinical (medical) Education at the University of Edinburgh. 
Margriet certainly hasn't stuck close to home in the last 20 years either! When asked to recount some travel experiences, she listed some wonderful and exciting memories including unexpectedly delivering a baby in rural Sierra Leone, working in an HIV clinic in South Africa and spending part of her Family Practice residency up north in Inuvik, NWT! Margriet has also travelled to many other destinations around the world, listing Central America, Chile, Argentina, Peru and Europe! "My love of travelling began with a CRWRC trip teaching English in China after my first year of university, followed the next summer by working at a hospital in Jos, Nigeria for 5 weeks", Margriet tells us. 
On top of all this, Margriet recently applied for the Canadian Space Agency's Astronaut recruitment campaign! She made it to the top 32 (out of over 3700 applicants!) "I did a project on space in grade 2 and recall being in amazed of what we had accomplished and in awe of what was possible. It was because of this project that I had a secret love and desire to go to space. The application process was a thrilling and exciting journey and one that pushed my limits and challenged me in ways I had never been challenged before. (Like being flipped upside down and forced to exit a helicopter underwater with only about 20 seconds of instructions/prep! It was awesome!)", Margriet says. Wow! To read her bio and more about the Astronaut Recruitment program, click here: http://www.asc-csa.gc.ca/eng/astronauts/recruitment/map.asp
These days, Margriet is an Emergency Physician in Calgary at the Foothills Medical Center. She is married to Warren and together they have three kids, Paige (age 6), Lachlan (age 4) and Heidi (age 2). In her free time, Margriet enjoys doing anything outdoorsy with her family (biking, hiking, camping, skiing, etc).
When asked to think about her time at CCS, Margriet immediately replies, "The person at CCS that impacted me [the most] was Dr. Eva Nosal. I loved her classes and I loved that she was a woman who was passionate about math and science. She was an example of a smart, successful female who made science interesting and fun! She left me with a love for math and science which has led me to where I am today!" She went on to say, "I think the strong educational foundation I received at CCS created a great launching point for me in University. More importantly, at CCS I was given space to learn about who I was and what my values were. That life is about love. That life is bigger than me, my family and my friends. That I need to use my life to make this world better." What a tribute to CCS and its teachers!
Thank you to Margriet for sharing a snippet of her life with us! We love hearing about where our fellow alumni are and what they're up to!