School News
It's much more than a Christmas tree!
Posted on

December 4th, 2015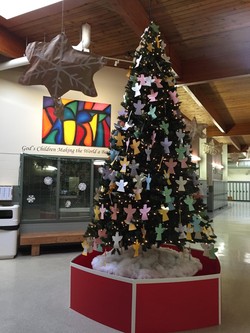 There is a great deal of need this Christmas in Calgary and the Secondary Students at CCS want to live the principles of loving God and loving your neighbor. We also want to live out  our them verse:
Each of you should use whatever gift you have received to serve others, as faithful stewards of God's grace in its various forms.  If anyone speaks, they should do so as one who speaks the very words of God. If anyone serves, they should do so with the strength God provides, so that in all things God may be praised through Jesus Christ. To him be the glory and the power for ever and ever. Amen. 1 Peter 4:10-11
Our Grade 7-12 Volunteer Team lead student by Nicholas, in Gr. 11, came up with the idea for a Giving Tree and recruited Mr. Kupery's World Religion class to make the 300 angels you see on this tree.  Students and their families are invited to take an angel from the tree and donate the contents listed on the back.  It's a beautiful way to connect to the God who sent His Son as a gift to all of us over 2,000 years ago.  Please encourage your student to take an angel and return the donation to the area beneath the Giving Tree as way to celebrate Jesus and love our neighbors this year! 
Below is a list of the items listed on the back of the angels:   
 1) The Drop In Centre - Personal Items & Hygiene
Good quality razors
Shaving cream
Hand lotion
Full-sized towels, new or used
New underwear for men or women
 2) Mustard Seed - Buy a pair of warm socks and fill them with the following items:
Travel size shampoo and/or conditioner
Hairbrush or comb
Good quality razors
Toothbrush and lip balm
New underwear for men or women
$5-$10 Gift Cards for coffee, movies or food (please write amount on the card)
3) A gift for an 11-12 year-old girl 
4) A gift for a teenage girl  
5) A gift for an 11-12 year-old boy
6) A gift for a teenage boy  
The above toys will be distributed to the Salvation Army Toy Drive and the Magic of Christmas Organization.
Please return the items to this High School location unwrapped.  Please tape the angel to the gift so we can keep them and hopefully use them to bless people next year as well. 
Students and parents are also welcome to bring in non perishable food items for the Food Bank and Brown Bagging for Calgary Kids and place them under the tree. We are also doing a separate challenge as a school to "raise" food for these organizations. 
Parents are welcome to participate and to come in and drop gifts off as well. The goal is to fill up the area (and then some!) with gifts and food.
THANKS FOR YOUR SUPPORT!