School News
Marit Cup on Tuesday March 24, 2015 - Teachers win!
Posted on

March 24th, 2015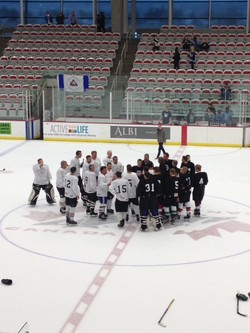 What a great morning!  Thanks to those who planned, attended, supported and played the game.  Congratulations to the teachers, who beat the students 3-2.  
-----------------------------------
The third annual Marit Cup will take place at the Markin MacPhail Arena at Canada Olympic Park on Tuesday, March 24, 2014, at 10:30am.  You are invited to come and cheer for a team along with CCS students from the Secondary Campus and students Grades 4 – 12.  Full details on Marit's story can be found on our fundraising webpage or view at: http://vimeo.com/87743074
Donate to RIGHT TO PLAY  through Martin Parnell's website**.  Donate to DAVID FOSTER FOUNDATION.