This is TEACHING FOR TRANSFORMATION
Truly transformational curriculum asks something of our students, it demands a response. We seek to educate Calgary Christian School students to transform God's kingdom, thereby "God's Children Making the World a Better Place". These attributes we seek to instill are called throughlines and are viewed as the "end product" of each TfT unit. Teachers ask "What "faith in action" characteristic do I hope our students will gain at the conclusion of our study in this subject?"
God- worshippers                       Idolatry- discerners
Earth- keepers                            Beauty- creators
Justice- seekers                          Creation- enjoyers
Servant- workers                        Community- builders
Image- reflectors                        Order – discoverers
Transformation happening @ CCS!
Celebrating with our Maintenance Staff!
Posted on

December 20th, 2017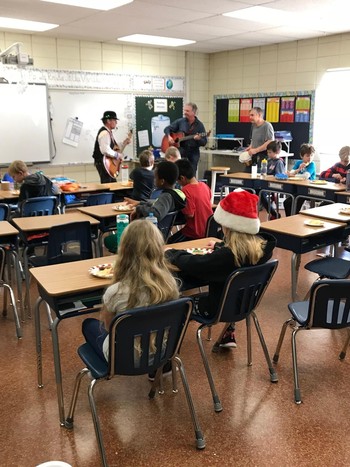 This Grade 4 class is celebrating Christmas together with our maintenance staff. Special music was prepared by a few of the staff to share at this special Christmas celebration. Students used this opportunity to show their gratitude for the staff by supplying snacks to share.  Together they are building community and serving each other, two of our Teaching for Transformation through-lines - Community Building and Servant Working.