This is TEACHING FOR TRANSFORMATION
Truly transformational curriculum asks something of our students, it demands a response. We seek to educate Calgary Christian School students to transform God's kingdom, thereby "God's Children Making the World a Better Place". These attributes we seek to instill are called throughlines and are viewed as the "end product" of each TfT unit. Teachers ask "What "faith in action" characteristic do I hope our students will gain at the conclusion of our study in this subject?"
God- worshippers                       Idolatry- discerners
Earth- keepers                            Beauty- creators
Justice- seekers                          Creation- enjoyers
Servant- workers                        Community- builders
Image- reflectors                        Order – discoverers
Transformation happening @ CCS!
Partnering with Brown Bagging Calgary
Posted on

October 30th, 2017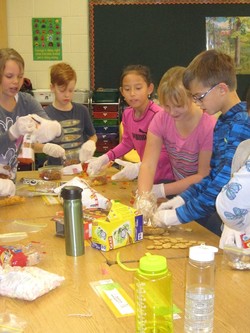 The Grade 5 students, partnered with Brown Bagging for Calgary's Kids, created trail mix snack bags which were donated to a local school in need.  These snacks are used at the school to give to hungry children who come to school with no lunches.  The Grade 5 students were happy to serve these children by creating special snacks for them to have throughout their school year.