Fourth Annual Alumni Sports Tournament!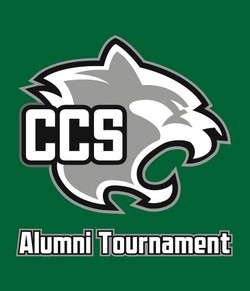 Community. Teamwork. Competition. School Spirit.   The Fourth Annual Alumni Sports Tournament, held on December 30 and 31, 2016, was a great display of these four awesome words! With CCS as the common thread, alumni, staff, parents and students of all ages gathered for two days of great competition!   Both participants and fans enjoyed the positive and energetic atmosphere!   Our co-ed basketball game on December 30 was casual, yet competitive, and the two teams remained close until the Navy team pulled ahead in the second half.  The all-day volleyball tournament on December 31 was chock full of action, with tight matches and near-upsets - the Cardinal Red Team pulled off the win by a close margin!  Several families signed up to participate together, classmates from the same era entered a team, with additional comrades cheering them on in the stands, others were placed on a team with participants they didn't know, and worked together amazingly well!  Grandparents, spouses, former teachers, children and old friends made up the crowd of spectators!  Everyone enjoyed a concession stand that served delicious snacks and lunch items.  Door prizes were handed out all weekend!  It was truly a marvellous time!  Thank you to everyone who participated - this year was the highest number ever, with many competing for the first time!  We hope you'll be back!  Thank you to the fans for cheering loudly and for supporting your favorite team!  Thank you to those who helped in any way - as referees and scorekeepers, with set-up and take-down, to those who ran concession and all the others who made the event run smoothly!  It is a wonderful thing to belong to the CCS community and have the opportunity to participate in events like this one!

THIS YEAR'S TOURNAMENT WILL BE HELD ON DECEMBER 29 and 30, 2017!  Stay tuned for more details about how YOU can participate!! 
Contact Karen, Alumni Liaison, for more information at: kdees@calgarychristianschool.com