Options for Purchasing School Supplies for 2017-2018 School Year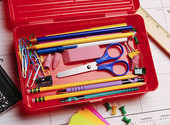 There are two options for purchasing school supplies. 
1 - Use this school supply list to purchase supplies at your choice of retailer. 
2 - Use School Start and order online! 
For every school start order the school receives $5. A labelled package of school supplies will be ready for your student on the first day of school or can be delivered directly to your home. See introduction letter here for details. Order online or print the appropriate grade level order forms below.
*If printing sheet and handing to the ES Office (manual orders), deadline to complete is Tuesday June 27.  Orders can be done online throughout the summer.