RUN!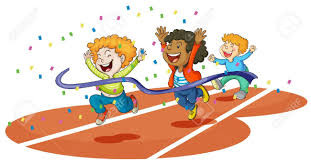 Based on the popularity this fall, we are pleased to offer a running club this spring for students in grades 3-6.
Students will have the opportunity to practice their running skills and build endurance in a fun and supportive team environment. During practices they will run laps around the field (Thursday lunch recesses, 0.3 km per lap) or the block created by 49th St, 26th Ave, 51st Ave, and 30th Ave (TUESDAYS after school, 1.2 km per lap) and we will track their cumulative distance. Practice times will be TUESDAYS after school, and Thursday during lunch recess. Students are welcome to participate in both practices each week, or choose one to commit to.  PRACTICES START THE FIRST WEEK IN MAY.
After school practice start at 3:45 sharp and we will meet by the 5O and 5VB doors. Parents are required to pick up their children by 4:15 and they must sign them out. If your child has permission to walk home an email must be written to Mrs. Ouwerkerk stating this. Students will not be allowed to practice without proper footwear and active clothes. Jeans will not be allowed.
Our goal is to train for a 5 kilometer race as part of the Run for Water on Saturday June 10th. Parents are required to register their own child and must be present at the race, though they are not required to race. The cost for your child is $25 and adults are $30. Attending the race is not mandatory. Please note that there is a registration fee for this race but students will receive timing chips and t-shirt! This race also supports a fantastic cause and helps to make God's world a better place.  
After school practices are not able to run without a number of parent volunteers. Please check this SignUp Genius link for volunteer opportunities.
Sincerely,
ES Running Club Permission Form