Parents Who Pray
Parents Who Pray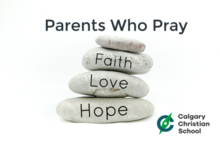 This is a volunteer group of parents who meet each week throughout the school year to pray for the students and staff at Calgary Christian School. Parents Who Pray gather at the Secondary Campus in the Konnectus Room on Thursday mornings from 9-10:30am.
If you have a prayer request, you can let the Prayer team know through their email.
New in 2018, Evening Prayer time 
Wednesday, October 10 in the LINC (Secondary Campus) from 7-8pm.
and going forward the first Wednesday of each month; Nov 7, Dec 5.