ADmazing Savings Book (2018/19) $25 each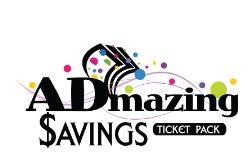 Make your purchase to support our Belize Team!  The ADmazing Savings Ticket Pack is filled with over $25,000 in savings on everyday items.  Not only do you save money, but you will be also supporting our Belize Missions Team as $10.00 from each book goes back to our school!
You can get your copy at either of the campuses or by emailing Phil Bonk.
Read more details about the Belize Trip on Mr. Bonk's page here.