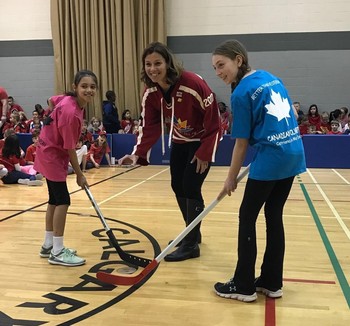 On March 23, 2017 special guest speaker, Olympian Catriona LeMay Doan opened our second annual Floor Hockey Tournamen. Proceeds from this tournament will go to WinSport "better than yesterday".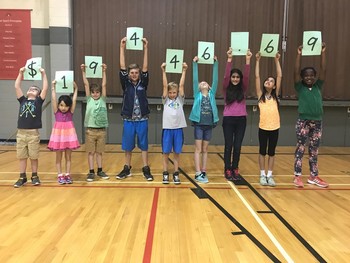 May 4 was the big reveal and it was very exciting as our floor hockey tournament raised $9446.69!  BUT we heard from John Francis at WinSport, they had a supporter who was inspired by our fundraising event and matched the money! So the total for new Canadians on ice and and snow is now $19,446.69.  Yay, we're so excited for everyone!
Junior Reports
A day as a Flame!
Posted on

January 12th, 2017
On Wednesday, January 11, 2017 I  had a once in a lifetime opportunity to go watch a Calgary Flames practice and later meet centreman, Sam Bennett.
It was a day full of excitement and fun! The arena was so quiet and empty, unlike a Flames game. It seemed to be bigger and more spacious. There were lots of cleaning staff preparing the arena for the upcoming game. Now I know how the cars on display are always shiny.
As soon as I sat down, the stands started to slowly fill up with media. There was more media than usual since it was a game day. Flames vs. Sharks. Even though it was just a practice, the drills were still pretty intense. The players worked as hard as they could, competed for the puck just as intense as a game battle, and listened to their coach.  This is their job and they take it seriously. 
After the practice we were accompanied by Blake Heynen, the head of Communications for the Flames organization. He took us into the dressing room. We waited for the players to be done their media interviews. I don't know why, but there were all of these bright lights and microphones on the cameras. This is called a media scrum.  Later, after the scrum, Blake told me I would interview Sam Bennett.  As I waited for Sam something unexpected happened. Commentator Kelly Hrudey was in the dressing room and he came by and introduced himself to me and I did the same. Just a minute after, Sam was ready. Sam was a very nice and calm guy.  He made me feel relaxed because I was feeling nervous!  I could tell when I was interviewing him that he took me seriously and answered all of my questions in detail. 
Here are some highlights from the interview:
Q - San jose is at the top top of the division… How important is this game tonight?
A - This game is very important… we want to get the points and win tonight.
Q - Miekkail Boedker scored a hatrick against the oilers last night… How will your team shut him down tonight? 
A - Well obviously we can't just focus on one guy… I mean we need to be focused on the whole team or else we will probably lose.
This was a dream come true for me and one day my hope is to be that player for a young fan.
Your CCS Junior Reporter,
Yianni