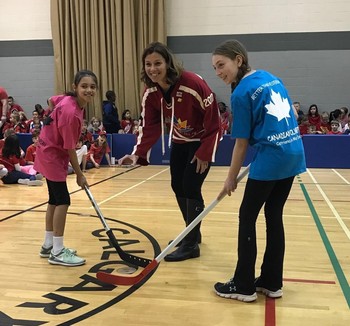 On March 23, 2017 special guest speaker, Olympian Catriona LeMay Doan opened our second annual Floor Hockey Tournamen. Proceeds from this tournament will go to WinSport "better than yesterday".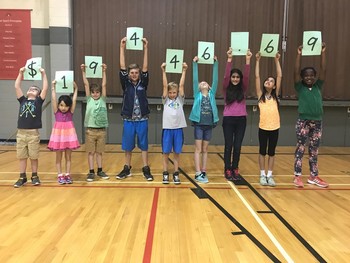 May 4 was the big reveal and it was very exciting as our floor hockey tournament raised $9446.69!  BUT we heard from John Francis at WinSport, they had a supporter who was inspired by our fundraising event and matched the money! So the total for new Canadians on ice and and snow is now $19,446.69.  Yay, we're so excited for everyone!
Junior Reports
Cougars win first game of the season!
Posted on

January 31st, 2017

On Monday, January 30, 2017, the CCS floor hockey team went to the new Rundle College Elementary School for their first ever game this year. It was unusual for the team because the school was aware of their floors getting damaged, so they put foam covering on the sticks and used a ball instead of a puck. The game got off to a slow start. At the end of the first period the game was tied a 0-0. One young fan gave his opinion after the first period. "I thought the goalie played really good considering he only made a couple of saves " He explained enthusiastically "The team played good defensively and offensively."

The second period had started. Half way through the 2nd period… GOAL! Andrew B. scored the first goal with Kyle E. with the assist and Calgary Christian Cougars were up on the Rundle Cobras by the end of the 2nd period 1-0 Cougars!

During the last period the crowd was chanting "Let's Go Cougars, Let's Go!" and the room came to life. Kyle E. zoomed closer to the net and quickly scored.  2-0 Cougars!  The rest of the game was hard defence with lots of close calls but the team held together and the final score was 2-0 Cougars. Stay tuned for the rematch happening March, 14 at 4:00 in the Cougar's den.

 

Jr. Reporter

Yianni