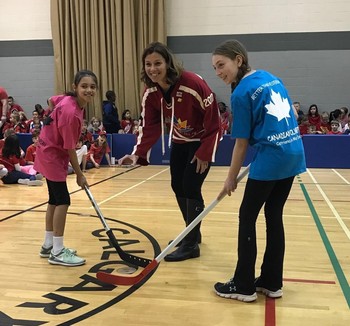 On March 23, 2017 special guest speaker, Olympian Catriona LeMay Doan opened our second annual Floor Hockey Tournamen. Proceeds from this tournament will go to WinSport "better than yesterday".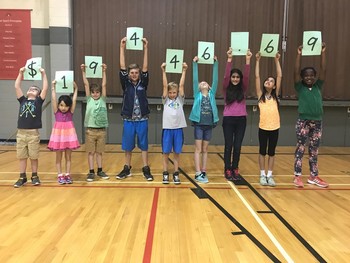 May 4 was the big reveal and it was very exciting as our floor hockey tournament raised $9446.69!  BUT we heard from John Francis at WinSport, they had a supporter who was inspired by our fundraising event and matched the money! So the total for new Canadians on ice and and snow is now $19,446.69.  Yay, we're so excited for everyone!
Junior Reports
Flames Highlight
Posted on

January 12th, 2017
On Wednesday, January, 11, 2017, two CCS students were invited to the Saddledome for a once in a lifetime experience.They got to watch a Flames practice, then later interview two of the Flames players. The arena was very empty and quiet, unlike a Flames game. There was a lot of media at the practice getting ready to interview the players on how they were going to play in the game that night. The students saw some pre practice/game rituals. For example, goalie Brian Elliott was showering himself with his gatorade bottle on the bench to wake himself up. Tune in at the end of January to read the full story.
CCS Jr reporters Yianni & Margaux