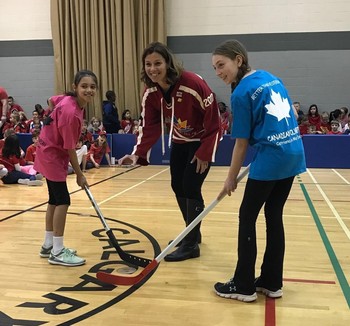 On March 23, 2017 special guest speaker, Olympian Catriona LeMay Doan opened our second annual Floor Hockey Tournamen. Proceeds from this tournament will go to WinSport "better than yesterday".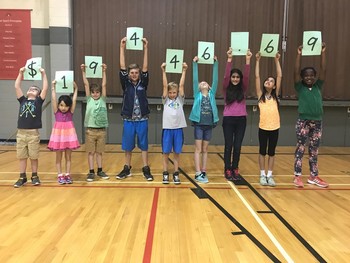 May 4 was the big reveal and it was very exciting as our floor hockey tournament raised $9446.69!  BUT we heard from John Francis at WinSport, they had a supporter who was inspired by our fundraising event and matched the money! So the total for new Canadians on ice and and snow is now $19,446.69.  Yay, we're so excited for everyone!
Junior Reports
Teachers Learn A Lesson
Posted on

March 17th, 2017
Friday, March 17th, 2017 the teachers learned a valuable lesson. That kids rule! Before the 2nd annual staff and students game, both teams were preparing for the exciting game. It opened up with introductions for the players and a prayer. Then, when everyone was sitting,  there was one last introduction. "Please welcome to the stage Meaghan Mikkelson!" Meaghan made a special appearance and played in the game. The first period Meaghan played for the CCES Floor Hockey Team (students). It was off to a slow start, after the first shift it was 1-0 staff. The goal was scored by Ms. Brouwer, but Andrew quickly tied it up. 3rd shift Meaghan came on and scored an amazing goal on the only staff goalie, Mr. Heppner. "Last shift of first period" Ally announced.
The crowd was wild, different people cheered for different teams. Ted ran to the net and scored the 3rd goal for the students. The crowd was wild, it seemed every minute there was another goal. Mr. Heppner made an amazing 5 hole save by falling and Nicholas jump on him to hopefully help score a goal. Andrew saw a chance and passed to Christian and he scored when Mr. Heppner finally got Nicholas off. "Tweet" the refs blew their whistles. "Ms. Visser 2 minutes for wearing a Canucks jersey." The score was 4-1 at the end of the 1st period. Meaghan scored her 2nd goal of the game by snipping it, top corner.  After Mr. H took it out of his glove, she scored for a Hat Trick!  The score was now 6-1 students. Meaghan switched to the teaches for the last period and instantly scored. But Seth made up for it by body checking Mr. H and scored a goal! Mrs. Parkin scored with an assist from Layne Kilbreath for the teachers. And again Pastor Layne scored right after his assist, but it was not enough. The game ended 7-4. The students win again!
Jr. Reporter,
Margaux W.