Marit Cup Continues!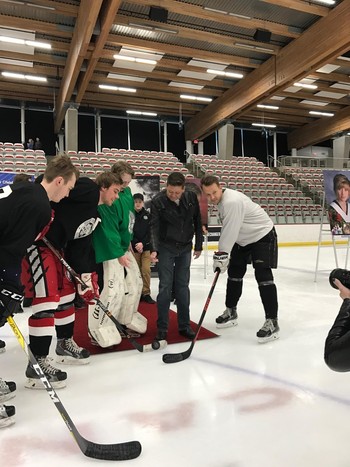 2017 - 5th annual Marit Cup took place on Tuesday, March 28 at the Markin MacPhail Arena at WinSport.
It was truly an amazing day! Tanner, a young man who was the recipient of Marit's heart played goalie in this hockey game. Read his story here!
Mark, who is the recipient of Marit's pancreas and one of her kidneys also attended the game for the second year in a row! Together with Tanner they dropped the puck to start the game.
Jake Elmer, CCS student who plays for WHL's Kootenay Ice played on the student team.
It was terrific to have Lara and Allison from the David Foster Foundation join us at the arena and show their support, along with Tanner, Mark and Marit's families.  CCS Secondary students and staff were also in attendance and cheered everyone on at this special hockey game! 
Read and see more from local media at this event! Scroll to bottom of this page to see photos from the event. 
New this Year: Organ Challenge 2017
The Marit Cup is a students vs teachers hockey game that is held in honor of Marit Mackenzie, a Calgary Christian School student who graduated in 2012 – and who, sadly, in January of 2013, at just 18 years of age, and only 6 months after graduating, passed away from a pulmonary embolism.
In March 2013, the first annual Marit Cup raised more than $15,000 for the David Foster Foundation and for scholarships for students in southern Alberta.
·       The first three Marit Cup events and donations made to the David Foster Foundation in Marit's memory have raised more than $25,000
·       As part of the graduation requirements at CCS, every grade 12 student completes a senior project and the intention of these projects is for students to give back to the community in a way that fits their passions and interests. 
·       For Marit's senior project, she raised awareness and money for the David Foster Foundation, which helps in providing financial support to Canadian families with children in need of life saving organ transplants.
·       The David Foster Foundation has assisted close to 1,000 Canadian families with children in need of major organ transplants and provided millions of dollars in direct family support.
·       Since 1986, the David Foster Foundation has assisted more than 1,000 Canadian families with children waiting for organ transplants.
·       The average cost to support one family is $10,000 annually
Marit's story can be viewed at: http://vimeo.com/87743074
Marit, who was inspired by a good friend who had undergone a liver transplant, focused her Grade 12 senior project on the David Foster Foundation which helps provide financial support to Canadian families with children in need of organ transplants. Marit's testament to the cause would ultimately go on, even after death, as her vital organs and tissue were donated for use in transplants and future reconstructive surgeries. Since her death, over $41,000 has been raised in Marit's name for the David Foster Foundation.
As directed by Marit's parents; Bruce and Susan, Calgary Christian has received a cash gift of $150,000 from Shopper's Drug Mart to fund the Marit Scholarships at CCS in perpetuity. These scholarships were developed a couple years ago to award graduating students of note who are planning to continue their education in fields of the fine or performing arts (this extends into areas of the humanities as well). The CSCE Endowment Fund, which is managed by Christian Stewardship Services, will generate approximately $6,000 each year to support multiple awards in this named scholarship program.