Quebec Trip
This fundraiser helps to offset the costs for the Grade 8 students traveling to Quebec in the spring of 2019. We've teamed up with Centennial Foodservice to offer a selection of restaurant quality meats and desserts. Find a list of delicious items available for purchase here. 
Please order and pay through the Hot Lunch Program (you can set up an account if you don't have one, it's easy) or with THIS FORM.  
Order deadline is November 15, 2018 with pickup from the school on November 30.  Contact Diana for more information. 
Thanks for your support!
Flames Fundraiser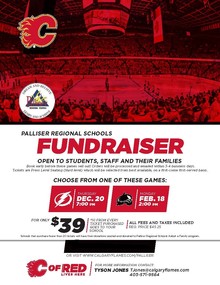 Another way to support of our Grade 8 Quebec trip is by purchasing Flames tickets!
Games to choose from: 
Thursday, Dec 20 , 7pm vs. Tampa Bay Lightning 
Monday, Feb 18, 2 pm vs Colorado Avalanche ( Family Day Game) 
$39 per ticket ($45.25 all fees included) with $10 going to Quebec Trip Students
When ordering through this link please list Calgary Christian Secondary School as the school. 
You can choose from either game (or both!) and tickets will be emailed to you soon after your purchase.